Our co-op is based in the historical cooperative movement which began in the 19th century. Today at least 600 million people in scores of countries are active in cooperative enterprises. Cooperatives include  credit  unions,  food and  consumer  co-ops,  agricultural  co-ops,  and  child  care  co-ops. Modern cooperatives began in the 1840's and 1850's in France, Germany, and Great Britain. Most American cooperatives trace their roots to the Rochdale Society of Equitable Pioneers in England. The Rochdale pioneers were a group of 28 weavers, hard-hit by the industrial revolution, who opened a cooperative dry goods store. They established seven cooperative principles: open membership, democratic control, limited interest on capital investment, equitable distribution of economic surplus, continuing self-education, cooperation among co-ops, and neutrality in social conflict.
There have been housing cooperatives in Champaign-Urbana for many decades. Their numbers have been shrinking in recent years, however, so in 1997 members of several local independent co-ops joined forces to create an umbrella organization to pool and organize their efforts, Community of Urbana-Champaign Cooperative Housing (COUCH). COUCH has been designed to strengthen the existing cooperatives, and to be a non-profit capable of running and eventually purchasing new cooperative houses.
Brooks Co-op officially opened on August 15, 2001!
Our Name, Gwendolyn Brooks Co-op
Edit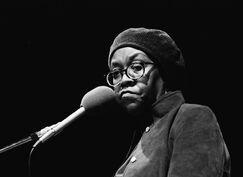 Gwendolyn Brooks (1917 - 2000) was one of the most distinguished poets from Illinois. She won the Pulitzer Prize for poetry in 1950, the first African-American to do so, and is considered one of the greatest African-American writers of the 20th Century. Her work is read by every Chicago school child, and continues to impress and inspire its readers.

Many names were suggested for the co-op, from Jim Jones House, in recognition of the NASCO Properties Executive Director who was so instrumental in its purchase, to Walnut House, for the big black walnut tree in front of the house, to names like The Cardamom Pod and Saffron House to reflect the role of food in co-op life. The minimalist 505 even made the final cut! After a final voting process, Gwendolyn Brooks was selected as a name worthy of respect. Although compromise was necessary (as it always is in co-ops!), Brooks being neither a co-op figure nor local to Champaign-Urbana, it was felt that having poetry be reflected in the life of the house was a worthwhile goal.